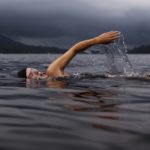 When: Saturday 6:30 am
Where: Departs from Blue Jacket Park, Baldwin Park
Distance: 30 miles roundtrip
Pace: 15-18 mph
Time: 3-4 hours
Join the IFC ride and swim to Lucky's Lake once per month as part of the IFC Tri membership. We leave from Blue Jacket Park and ride for about 1 hour before an open water swim at Lucky's Lake and return home the same route.  A great opportunity to ride as a group and then have a good open water swim together.  We will practice sighting, group swimming and even have some fun discussing Triathlon tactics!