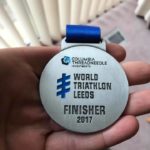 I Just participated in the Columbia Threadneedle World Triathlon Leeds yesterday. I raced the amateur race in the British Championships qualifier race (40-44) age group, on the same course as the Pro men and women would race later in the day won by locals The Brownlee brothers.
I was born in the City of Leeds in 1977 and departed here in 1996 and so it was amazing to be back on home turf with so many memories of walking these streets to college and University and having seen many changes.
Both cycling and Triathlon have become such a massive thing in the City on the astronomical success of the Brownlee brothers and the inaugural year of the Tour de Yorkshire and the first stage of the 2014 Tour de France.
The race didn't go quite as well as I wanted it to. I wasn't thrilled with my result of 2 hours and 32 minutes. I had a slower swim than expected of 26 minutes. Felt cold to begin with and plenty of swimmers who for some reason either couldn't or wouldn't sight! The water temperature was a brisk 53 degrees and it took me about 10 mins to find my rhythm and warm up. However before long the pontoon was in sight and the long long run to transition started. This was a hike! A long way to my bike and the start of the very windy bike course.
Of course the pros have a draft legal course around the City, lucky them!! With the buildings and urban setting this sheltered them nicely not so amateurs! Struggling to maintain my target watts of 285-290 I settled in and battled the wind and poor road surface and finished after 1 hour and 8 mins.
The run into Leeds and finishing on the same blue carpet and finish line was memorable, 46 mins was a little slower than my goal of 40 minutes. However seeing both my older brothers and family at the finish line in my home town of Leeds was a great 40th Birthday present and all about having fun as my coach would say!! Thanks to David's World Cycle and Trek Bicycle for a phenomenal bike and Tic Bowen at Winter Park Cycles – Orlando, FL and Darrell Cunningham for lending me some great wheels for this trip home and being able to race while I was here.